Home
Overwhelmed? Stressed?
Do any of these sound like you:
I'm stressed by the amount of stuff I handle. I want less of it!
I'm overwhelmed by the mess on my desk.
I've stopped inviting company. I'm embarrassed by my home's appearance, and it's too much work to get ready.
I want to become better organized to advance my career.
Call Today: (518) 238-3842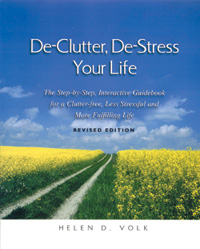 Helen D. Volk, B.S., J.D., is an accomplished author, in-demand consultant, workshop leader, and professional organizer.
A former packrat who lives clutter free, Helen teaches clients the attitudes, habits and skills they need to conquer clutter and reclaim their time, space and lives. Helen's de-cluttered, organized clients are better able to achieve professional and personal excellence, with less distraction and stress.