Home
Overwhelmed? Stressed?
Do any of these sound like you:
I'm stressed by the amount of stuff I handle. I want less of it!
I'm overwhelmed by the mess on my desk.
I've stopped inviting company. I'm embarrassed by my home's appearance, and it's too much work to get ready.
I want to become better organized to advance my career.
Call Today: (518) 238-3842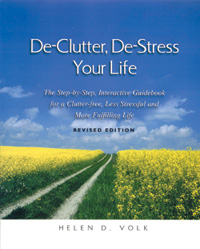 Helen D. Volk, B.S., J.D., is an accomplished author of de-cluttering/organizing books, in-demand motivational speaker, workshop leader, and professional organizer.
A former packrat who lives clutter free, Helen teaches students and clients the attitudes, habits and skills they need to conquer clutter and reclaim their time, space and lives. Helen's speeches motivate attendees to let go and de-clutter their lives. Helen's books take readers through a process by which they can achieve their de-clutter/organizing goals, using the worksheets provided and motivate her readers to do the work